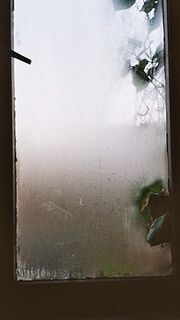 Could be due to Condensation that:
     Change in status of material to form a more intense, such as changing the gas into a liquid.      In chemistry, there is a condensation reaction.      In Computer Science, condensing algorithm for visual rebounds temporary
Condensation applications in industry
Edit
Steam power plants:
The process of Condensation in steam power plants that operate steam turbines for the management of superior technologies. On the one hand re-condensate water after a turbine to pay for a tank boiling water which generates steam as the water does not come from the outside, on the other hand it is a necessary process in thermodynamics to raise the ability of converting thermal energy into kinetic energy or electrical energy.
From the standpoint of thermodynamics rise machine capacity to produce energy increased difference in temperature between the primary heat 1 and the final temperature 2 .
Based on the laws of thermodynamics, the above-mentioned short, operate collection stations produce electricity without exception , whether kerosene or coal-fired or nuclear power , they are all dependent on the Department of steam to run turbines. All of which depend on the production of steam generation high heat - the temperature of the steam between 850 ° C for stations that operate with kerosene to about 450 degrees Celsius for nuclear power plants and under great pressure - and then re- heating of the condensate water again.
Heating systems and heating
In chemical factories, large stretches where the means of production across several buildings and workshops become intensified steam from the economic processes that provide the cost of production , especially as the supply of power plants which are in many stages by water vapor . After the power supply of the workshop and appliances steam , condensate collects water from water vapor mediated by a large pipeline network , and this water is usually clean, pure water , and returned to the tank heating to produce steam again . It can intensify the water and return it to run in a large factory that provides the plant millions of euros annually .
Networks as well as heating and heating in trains or in heating networks houses and homes sometimes depend on the steam generated by the hot water , where these networks operate at a pressure slightly above atmospheric pressure and the heat of the network in the range of 100 degrees Celsius .